The Spiritual Freedom Blueprint
I'm a bit of a walking contradiction.(Sorry, not sorry) 💁I grew up in a spiritual household but I always worked in corporate roles that were incredibly pragmatic and driven by logic.So here I am - an amalgamation of the spiritual and the practical.I blend the stuff that makes sense with the 'non-sensical'.And it is because of this that my life - and my client's lives - have done a complete 360 in both their internal and external world.👉 You see, you can form a solid step-by-step action plan, but without spiritual direction and a laser-focused vision, you can still feel lost.👉 You can do manifestation, visualization, astrological readings, and tarot card readings, but without practical execution, you can still feel stuck on the HOW.Now, combine the two together and you have a recipe for infinite possibility.👀 If you're a spiritually curious, corporate escapee (or soon-to-be) and you want to explore how to build a lifestyle business that promotes freedom in the truest sense…The Spiritual Freedom Blueprint offers everything you need to thrive in your transition.Visualise - Plan - GO FOR IT!Feel free to book a call to talk more about what The Spiritual Freedom Blueprint can offer you.
---
What do they say...
"Mathilde knows what you need before you do. She takes your entrepreneurial creativity and crafts a framework that supports your brilliance. She is intuitive. She knows what needs to be done and the quickest, easiest way to get there.
She is supportive. She knows how to listen well, offer guidance, and a clear direction for a streamlined and profitable business"
Tangie Nadimi - The Feel Good Expert
"Mathilde has a unique gift of taking her client's big ideas and visions and mapping them. Whether starting a business or shifting gears. Do yourself a favor and hire Mathilde. It will save you time, money, and energy in the long run "
Melanie Scott - An Intentional Business
"There is a life before Mathilde and after Mathilde. You changed my way of seeing things and doing things. I'll be forever grateful.
Candy Mealier - One More Rep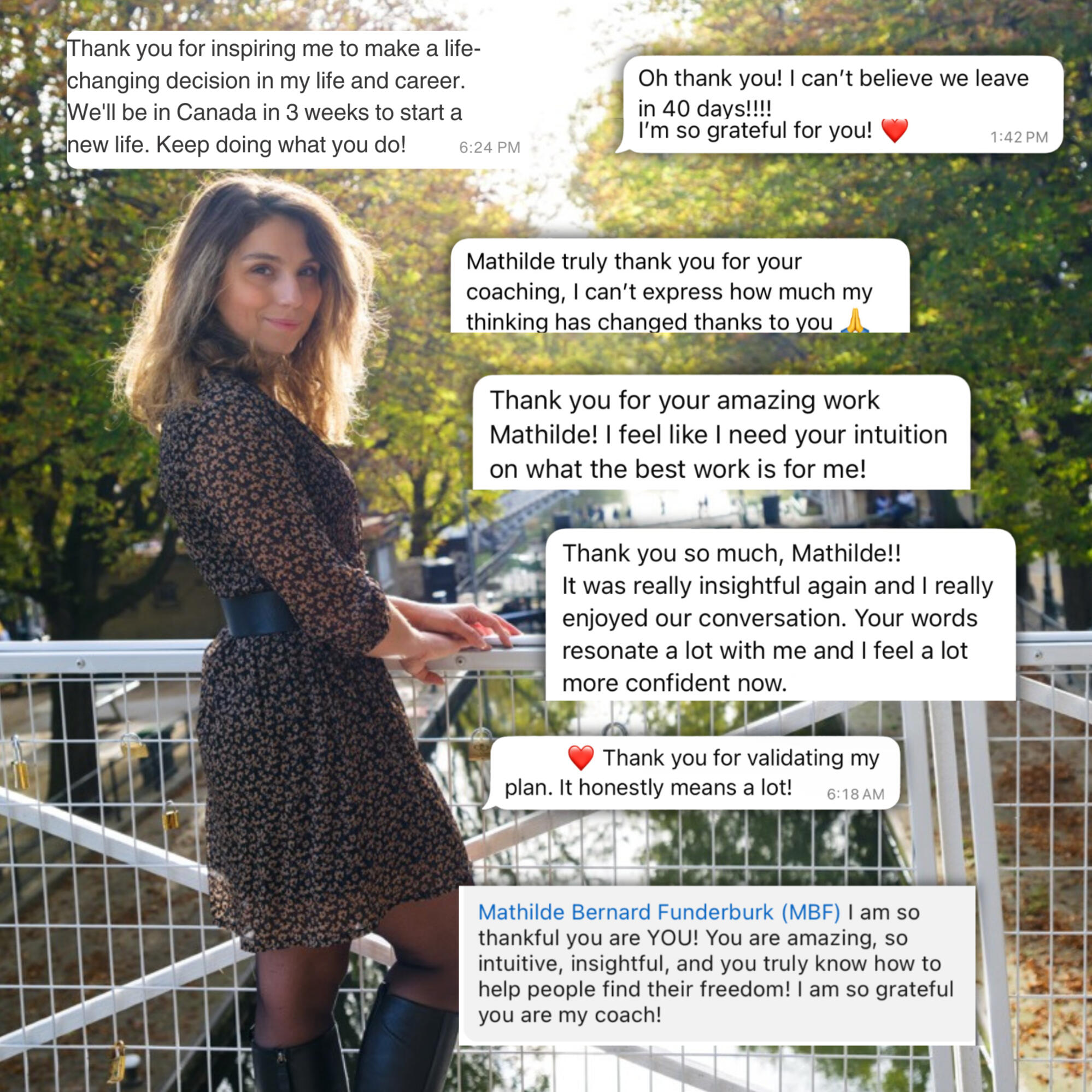 ---
Spiritual Freedom Strategy
90-minute
$450
Let's talk about your dreams, your business, and how to finally get you on track to get there.In 90-minute, we will:- Talk about yourself, what you like, what you want, and why you chose what you do.- Understand and talk about your struggles and challenges in your business (strategy, how much time you spend, where you want to go)- Define your dream action plan over the next 30 days- Give you specific intuitive and life designing tools that you can use to shape this lifestyle business the way you want itFinally, open the door to the full freedom you always wanted to have.
---
Walk Together
5 Coaching Sessions
$1,800
5 COACHING SESSIONS including an ASTROLOGICAL READING + A VISUALIZATION
Each session will get you closer to concretely making your lifestyle business happen and walking on the path to freedom.SESSION 1 - 90-minute - Draw your foundations pillars and let's remove the blindfold (visualization session)SESSION 2 - Astrological reading, let's dig deep into YOU, understand your strengths, weakness and have a clear picture of what the future looks like.SESSION 3 - Draw a roadmap that brings you exactly where you want to go.SESSION 4 - Create freedom from your actual life in just 60 minutes.SESSION 5 - Let's make a 30-day plan to make all your goals reachable one by one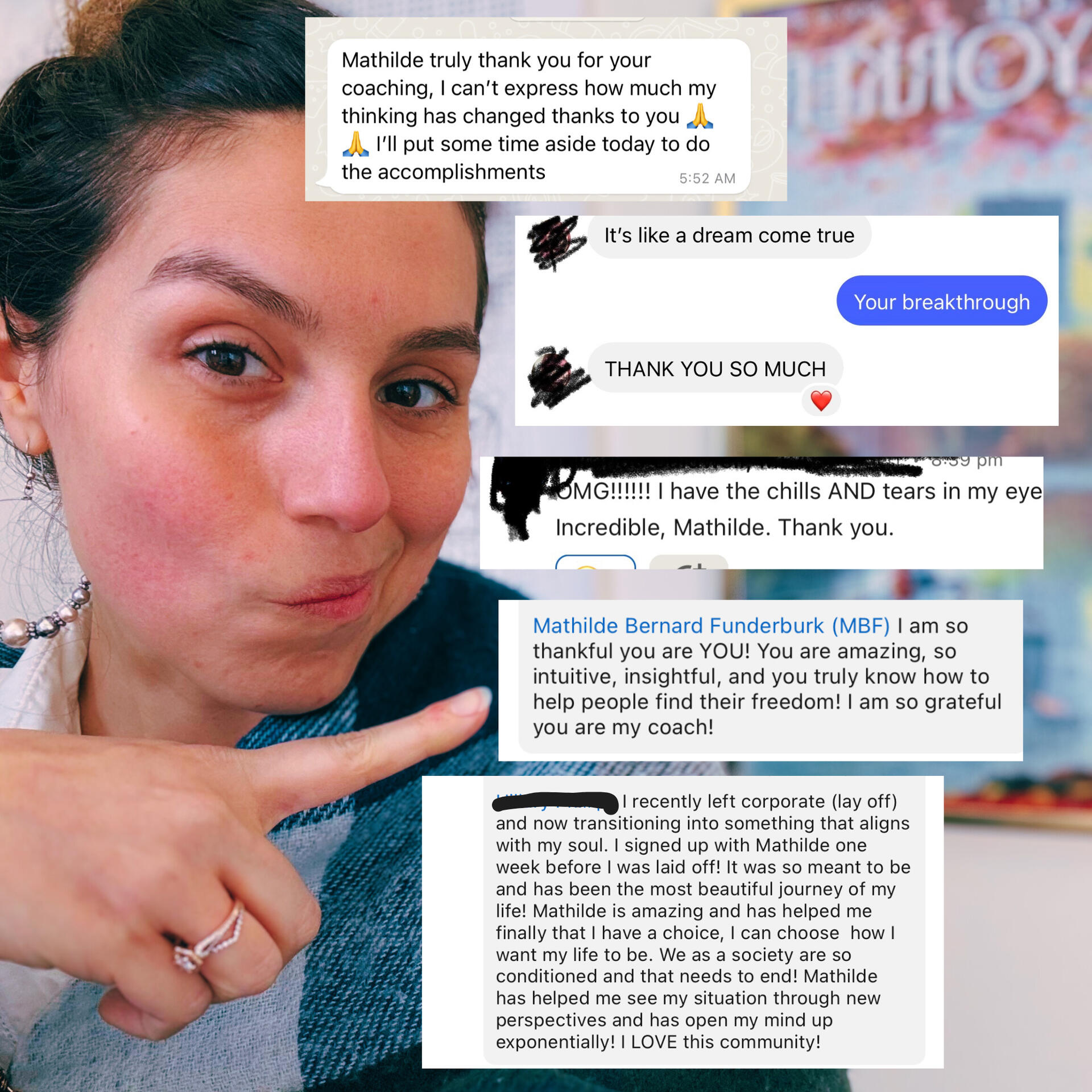 ---
Build together a system that brings freedom and money!
90-day project management meets coaching
Starting at $2,500/mo
ONLY 1 SPOT LEFT
Weekly or bi-weekly sessions together.- Kick-off call of 90-minute to understand your struggles, your challenges, and your projects- Each week we review a concrete project management plan telling you what to do. My team and I take the tasks that are taking you too much time: always here to save you time!- Creation of a project management plan with concrete actions- Overview of a specific timeline over 3 months to show you where you are going- Coaching during our calls to help you make decisions, and grow your mindset at the same time as your business
---
---
How can we work together
ASTROLOGICAL INTROSPECTION + 12 MONTHS FORECAST
My dad, Denis, and I decided to launch our business together and offer Astrology readings to give you clarity in your decision-making and choices.
My dad has 35+ years of experience in Astrological Readings.I am a Spiritual Business coach and the analysis of the readings helps me to give you the directions and advice to help you in your journey.Book below for June - SOLD OUT for May.
GROUP COACHING - THE SPIRITUAL FREEDOM BLUEPRINT
What if you could have all the clarity to know where to go next and all the power of making decisions aligned with what you truly want?It feels like a dream, right?Good, so then you're definitely going to understand when I tell you that you can create your lifestyle business to create more freedom by simply using tools that you have never used before.Tools that are outside of the norms of the conditioning of the society. But will give you the clarity and the concrete planning to make things happen.✨ That's what The Spiritual Freedom Blueprint is about.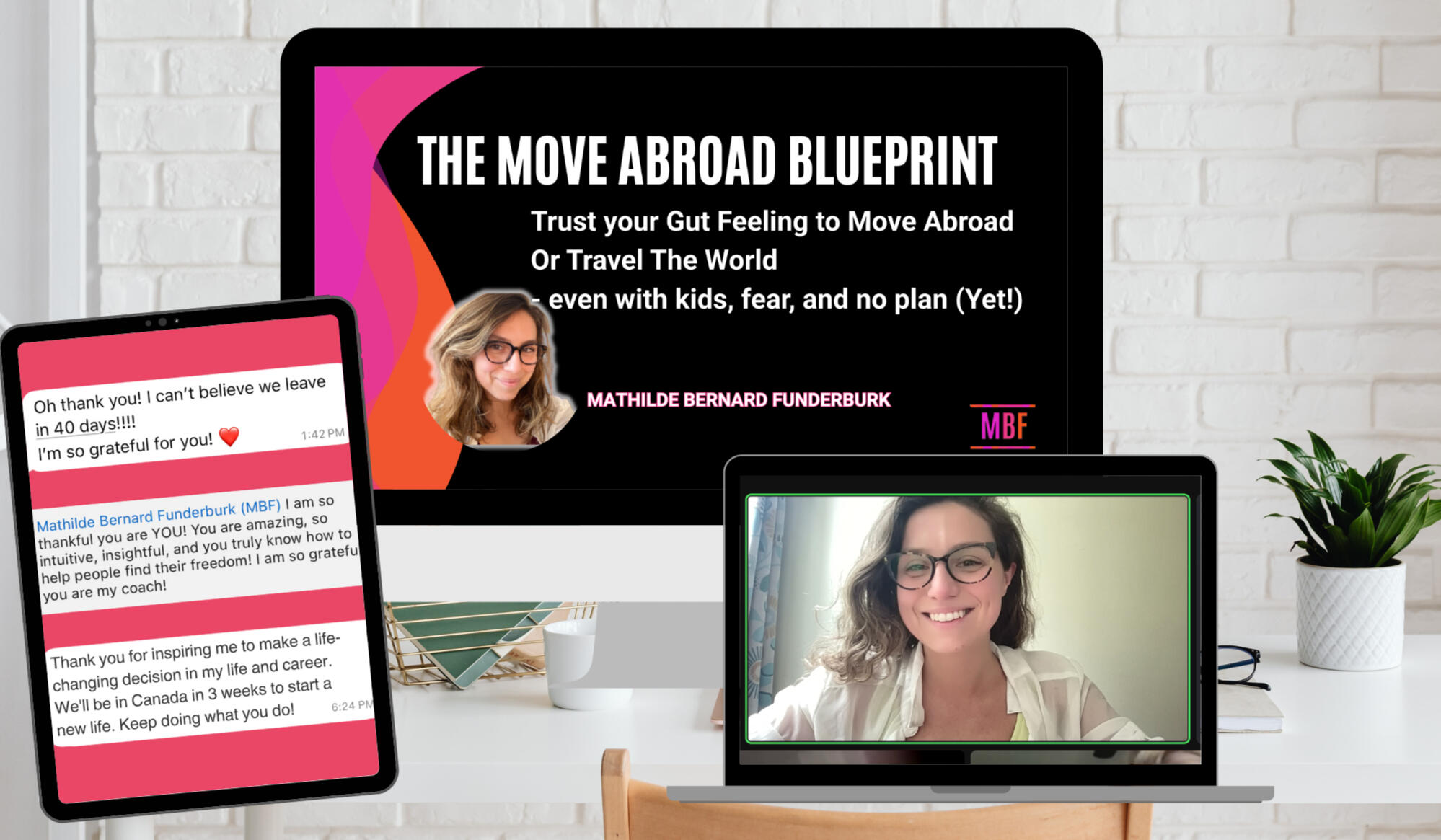 1:1 COACHING SPIRITUAL FREEDOM BLUEPRINT
You escaped (or still escaping!) the corporate world and you are sick of justifying your bathroom break.You finally want to decide if you want to wake up in Milan or in Bali, or even just have lunch with your loved ones on a Tuesday. And all of this while you can * truly * help others!Let's talk together to see how we can make it happen.